Sister Clay's Photo Album

This is my family during January of 2001. It is also the worst picture ever. Brief explaination: I was weeks away from delivering Anisa and insisted we take a family picture before she was born since our last family picture was taken prior to Leland being born.

These are my boys.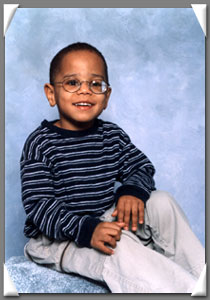 This is Junior at age 4 and at age 4 1/2.

This is Leland at age 2 1/2 and at age 3.

This is Anisa at 2 days old, February 16, 2001, at 6 months old, and at 7 months old.

This is my husband and me at my company's Christmas Party, December 15, 2001.


This is me the day before I had Anisa, February 13, 2001.

This is me singing "If you're happy and you know it" at my company's karaoke contest.
May God bless you and give you joy!